Gold medal freestyle skier Eileen Gu returns to Aspen for X Games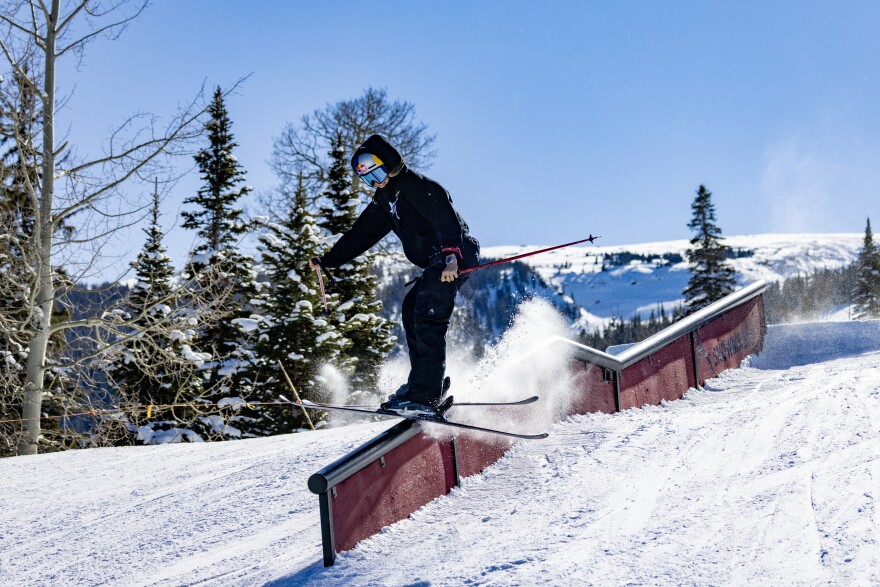 The Winter X Games are back in town, and so is Olympics and X Games gold medalist Eileen Gu, who spent some time with young local athletes on Monday.
The teenage freestyle skier was a pretty proud coach after she worked with young shredders from the Aspen Valley Ski and Snowboard Club.
At a Monday afternoon interview at The Little Nell, she boasted that every girl landed her 360 during the session that was sponsored by watch brand IWC Schaffhausen — and everyone had fun, too.
"Being with kids, when they're 11 and 12, and seeing how much passion they have, and how excited they are, that really is invigorating in a lot of ways and is inspiring for me really to be so grateful for what I have and what I get to do every day," Gu said.
Gu's everyday routine of sky-high twists and flips might look impossible, but that's part of what she loves about action sports, she said.
"It is literally the physical manifestation of doing the impossible, and I get to do the impossible every day," Gu said. "And that does so much for my self esteem, for my sense of resilience, for my sense of self and identity, and I carry that into every aspect of my life, and it's revolutionized the way that I see challengers and the way that I see myself."
Gu said you don't have to be a professional skier to appreciate the values of action sports, though. She may be nervous about a "double cork 1620," but overcoming fears of a smaller feat like a 360 can help build that sense of resilience too.
As a self-professed "huge nerd" and a freshman at Stanford University, Gu wants to show young athletes the importance of balancing academics and athletics.
"It just opens up your worldview so much, and it gives you a great perspective, especially in terms of the academic side of things," Gu said. "I think that being in school has informed the way that I ski so heavily, especially the way that I compete. I think I would not be where I was, where I am, if not for school."
She also wants to be a role model for girls with big aspirations in the world of skiing.
"I think it's super important for young girls to get into skiing, to feel as though there's a place for them in the industry, to feel as though we are welcoming, and we want them there, and that they have the capacity to do great things." Gu said.
Gu is both a professional athlete and model, with ambassador roles tied to companies like the watch brand IWC that supported her work with AVSC earlier this week. She said in the interview that her roles in both sports and fashion have helped her recognize her own capacity, "not just what you see, but also the capability underlying and underpinning it."
"My body is my job, and what's really cool about that is I have learned a lot about the beauty of my body and what it can do, not just what it looks like," Gu said. "But if I see myself in the mirror, and I'm looking at my legs, my legs have carried me over hundreds of miles of terrain while I'm running. My legs have allowed me to take off and do double cork rotations and land safely on the other side. How incredible is that? How cool and how strong and how powerful is that?"