Speaking Through Paint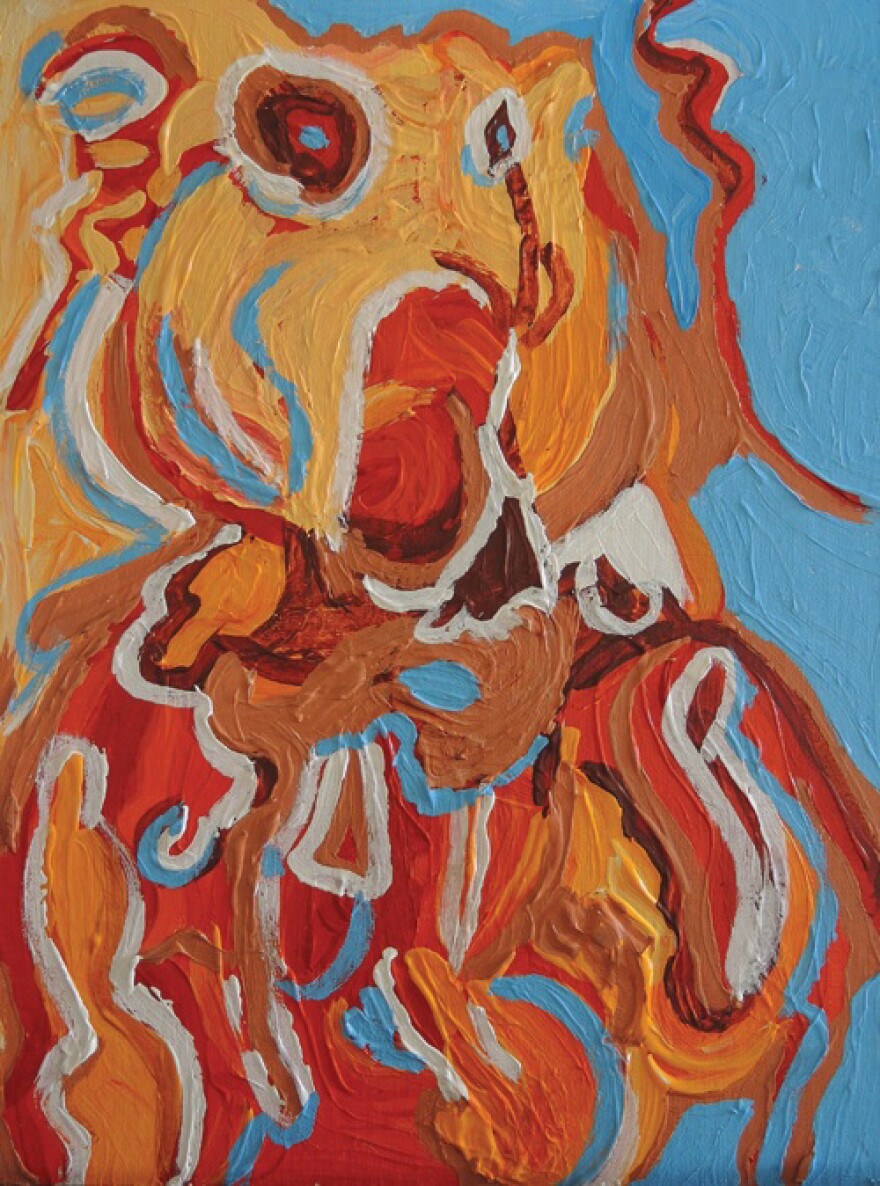 The artworks of a newly discovered artist go on display tomorrow (11/6/2013) at the Wyly Community Art Center in Basalt. The 25 works by Winifred Carol Wyman are an explosion of luxuriant color. The paintings depict figures that alternate between ferocious and serene postures, all done with dauntless brushstrokes of thick heavy paint. The work commands a viewer's attention. Aspen Public Radio's Roger Adams reports.
"Winifred is a very unique artist. She's completely self-taught."
That's show curator, DasaBausova, she directs programs at the Wyly Community Arts Center.
"And, she's painted for the last three years non-stop. She's produced like three-hundred paintings. She's able to access areas in her mind that normally one wouldn't."
This access to the mind is what countless artists, writers and poets have strived for over generations. The ability, as some artists put it, to return to a child-like state where their creativity is unencumbered by their conscious mind. The Art of Winifred, as the show is titled, is a display of a fierce inner child's rebellion against restraint. In her case, it is unwilling restraint of two very different kinds.
First of all, WinifredWyman rarely speaks, has been diagnosed with dementia and-or Alzheimer's and paints on a turntable lying across the armrests of her wheelchair.
"She's bed-ridden. She sits up to paint and one of the interesting things she does is she turns the piece as she paints; painting it upside down and sideways. And, they are figurative images, which, you know, if it was abstract then that would be easier to comprehend but there is some representation. And, they are so raw and powerful and emotive."
What has only recently drawn the attention of collectors and curators like Bausova is the strength of Wyman's images. Equally powerful though is her technique. Where most artists would paint a figure on an easel from a top to bottom perspective, Wyman is continually turning her paintings around using a 360-degree perspective. The paint is laid on heavy and it rests in swirls and peaks. She works as if she's in a hurry and, in fact, just a few months ago began using two brushes at a time; each grasped in one hand.
While speech and mobility are failing her, Wyman's communication is hardly disabled. The other restraint Wyman's creativity is push back on is more internal says her son, Aspen Hair dresser and author, John Howard Wyman.
"Homicidal, suicidal, dementia, Alzheimer's, schizophrenia and alcoholism."
Five years ago Wyman was restrained against her will and placed in a nursing home. She was beaten and assaulted and then rescued by her sons one of whom lives here in the Roaring Fork Valley. John Howard Wyman wrote a book about his mother's ordeal called Against Her Will. The book details how she was diagnosed with a list of mental ailments including dementia and given medications to calm her. Or, as John Wyman believes, to silence her.
"She is able to access areas in her mind that normally one wouldn't."
"She couldn't communicate, is what they were saying. She knew she wanted out."
One day in 2009, John Wyman's brother went to help his mother with some wash.
"And, they went out to do laundry, got in my brother's car and she goes, 'I want to go to Colorado, and he says 'when?' and she goes, 'Right now.'"
She has been living here with John Wyman ever since. It was after her freedom and arrival in the Roaring Fork Valley that WinifredWyman asked for brushes, paint and canvases.
"She speaks through her work. She didn't do it for profit, she didn't do it for fame, she did her artwork for herself. It used to take her about two and a half to three days to do a painting. I don't remember seeing a lot of them, I was just keeping her busy. I'd put them on top of the refrigerator to dry and she start her next one. And, I didn't always look at them very close."
Now many people are looking closely at WinifredWyman's artwork. Collectors have begun buying and she is the subject of her first retrospective exhibition opening Tuesday (11/6/2013) in Basalt.
Curator Dasa Bausova says the work stands on its own and is not getting attention because of Wyman's personal back story.
"No, no. That's just an added fascination. But they are definitely powerful images in and of themselves. It was just such a great discovery."
John Wyman has been living with these paintings for three years, watching them being created and finding space in the house for his mother's growing assemblage. He says he is often in awe.
"I knew I liked what she did. I didn't know it was as remarkable as other people are starting to say now."
The Art of Winifred: A Retrospective opens tomorrow (11/6/2013) at the Wyly Community Art Center in Basalt and will be on display through late December (12/19/2013.) An opening reception will be held this Friday evening (11/8/2013.)
More information:
Full interview with John Howard Wyman:
John_Howard_Wyman_web.mp3
Full Interview with Dasa Bausova:
John Howard Wyman book - Against Her Will:
Wyly Community Art Center: