"Winemaking is Freedom" will celebrate incredible wines from around the world
Join celebrated restaurateur Rose Previte and husband David Greene, former national host of NPR's Morning Edition, to explore seven incredible wines from around the world and learn about the remarkable winemakers behind them. With unforgettable food pairings created by Washington DC Chef Eritrea Mehary, for a taste of reimagined Eritrean cuisine perfect for the occasion.
Taking place Thursday, June 15, on the eve of the iconic Food & Wine Classic, this special fundraiser in support of Aspen Public Radio will celebrate the marriage of winemaking and storytelling, with a Wine Tasting from 4-6pm ($250/person) followed by an exclusive, limited-seat Dinner at 7pm ($500/person), hosted by Marsha and David Dowler on the grounds of their beautiful home in Aspen, CO.
Click here to get your tickets now, or purchase them by contacting Aspen Public Radio Membership Coordinator, Lauri Jackson, at 970-920-9000.
EVERY WINE HAS A STORY.
Drinking a glass of wine, without knowing the story behind it, is like holding a book in your hand but never immersing in the words on the page.
Wine can be a window into another world, an opportunity to understand people and communities, from the winemakers to the grape growers to the bottlers. Wine drinking can be transportive, impactful and fulfilling in ways you never imagined.
Be transported to the Republic of Georgia, where they've been making wine for 8,000 years. Maybe you never tasted the Dzvelshavi grape – only because the Soviets ripped the vines out from family vineyards. Now, two trailblazing sister winemakers are proving Dzvelshavi wine can compete with any chilled red on the market.
Experience a California Syrah made by the first recognized Native American winemaker in the United States, and her wife. Travel to South Africa where a Black female winemaker uses méthode ancestrale, the oldest known method of making sparkling wine, as she fights for diversity and inclusion in South Africa's wine world.
Visit the Fertile Crescent where ancient indigenous grapes are being traditionally pressed by one of Lebanon's few female winemakers. And enjoy grapes grown in two unique high-altitude vineyards next to a UNESCO World Heritage site. The winemaker there is Abdullah Richi, a Syrian refugee making wine in exile to support his family back home.
Abdullah may sum up the point of this evening best: Learn about his story. Support his family. But – "Don't drink this wine out of sympathy. Drink it because it's damn good." As you will discover yourself, his wine and the others you'll sample from lesser-known regions and makers from underrepresented communities will compete with any wines on the market – while also inspiring you.

Rose Previte

/

Jennifer Chase

Drew Hairston

/

Courtesy Photo

Chef Eritrea

/

Cristian Zuniga

Christina Shoults

/

Cristian Zuniga
ROSE PREVITE
Owner, Compass Rose and Maydan
Co-Founder, Go There Wines
Rose Previte is the owner of DC's acclaimed restaurant Compass Rose and Michelin-starred Maydan. Raised in a food loving Sicilian-Lebanese family in Ohio, Rose started working in food in her mother's restaurant and Middle Eastern catering business.
Her first restaurant was inspired by spending nearly three years traveling to over 30 countries, while she lived in Russia with her husband, David Greene, posted there as the correspondent for NPR. Absorbing the street and market foods, and the energy of these diverse cultures, led to the opening of Compass Rose upon her return to DC in 2014. In 2017, Rose opened Maydan, which was conceived in the summer of 2017 on a three-week journey through Morocco, Tunisia, Turkey, Georgia and Lebanon where the team immersed themselves in local culinary traditions, techniques, and ingredients from the countries they visited. Maydan debuted and quickly earned coveted spots on "Best New Restaurants in America" lists from national media including Bon Appetit, Food & Wine, GQ, Eater, was named a James Beard Award Semifinalist for Best New Restaurant 2018 and for Outstanding Wine Program in 2022. In 2020, 2021 & 2022 Maydan earned a one star Michelin rating.
In 2022, Rose co-founded and launched Go There Wines, a new social enterprise company created with the aim of disrupting the global wine industry, bringing to market trailblazing wines made by women and other underrepresented winemakers from lesser-known wine-making regions around the world.
For this event, she will be joined by:
DREW HAIRSTON
Wine and Beverage Director, Michelin-starred Maydan Restaurant
ERITREA MEHARY
Owner & Executive Chef, Solomunna Supper Club
CHRISTINA SHOULTS
Director of Operations & People, Michelin-starred Maydan Restaurant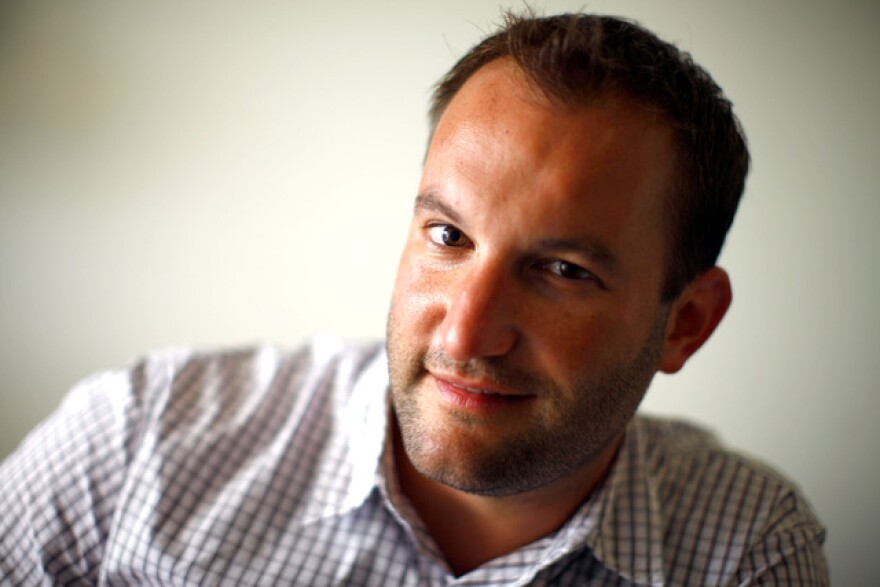 DAVID GREENE
Owner, Fearless Media
Co-Founder, Go There Wines
David Greene is an award-winning journalist and New York Times best-selling author, who hosted NPR's Morning Edition for nearly a decade. He also hosted NPR's popular morning news podcast, Up First, guiding listeners through turbulent elections, a world-altering pandemic and fights for social change in our country.
David stepped away from Morning Edition in 2021 and co-founded a new company, Fearless Media, which is collaborating with KCRW in producing the popular national weekly politics show, Left, Right & Center. David spent much of 2022 in Ukraine, working on several audio projects, including Ukraine Stories, a daily podcast from Fearless that Forbes Magazine called a "tour de force of narrative journalism." David brought his own experience to the conflict in Ukraine: Before Morning Edition, he was NPR's Moscow Bureau Chief, covering the region from Ukraine and the Baltics east to Siberia. He also took two trips across the Trans-Siberian Railway and published a best-selling book about the journeys called Midnight in Siberia, giving readers a nuanced look at Russian life under Vladimir Putin.
During the Arab Spring, David spent a month in Libya, reporting riveting stories in the most difficult of circumstances as NATO bombs fell on Tripoli. He was honored with the 2011 Daniel Schorr Journalism Prize from WBUR and Boston University for his coverage. The White House Correspondents' Association took special note of his report on a speech by then-candidate Barack Obama addressing the nation's racial divide and awarded it the Association's 2008 Merriman Smith Award for deadline coverage of the presidency.
While David has interviewed countless celebrities — from Kendrick Lamar, Jimmy Buffett and Dolly Parton to Jennifer Lawrence, Matt Damon and Will Smith — he says he is even more passionate about interviewing people we have never heard of, but whose lives deserve our respect and attention.
Explore the featured wines and winemakers:
2020 Krakhuna Amber
Made from Krakhuna grapes aged in traditional Georgian Qvevris with partial skins, Krakhuna–which means "crispy" in local Imeretian dialect–are indigenous white grapes and one of Georgia's oldest varieties. Qvevri wine-making is an ancient tradition where wine is aged in egg-shaped earthenware vessels buried underground.
2020 Dzvelshavi Dry Red
A light, chillable red made from Dzvelshavi grapes from the Imereti region of Georgia. This ancient varietal produces light and fresh wines, low in tannins. For this wine, Baia and Gvantsa are supporting local farmers in their village who hand pick and sort these round, medium-sized berries; helping save an ancient Georgian grape from extinction.
ABOUT THE WINEMAKERS: Men have been making wine in the country of Georgia for more than 8,000 years. While sisters Baia and Gvantsa Abuladze celebrate this rich winemaking history, they are also charting a new path for women in wine. Increasingly gaining attention in their home country of Georgia and around the world, Baia and Gvantsa have also been highlighted in Forbes, the Washington Post, and a range of other publications. Unapologetically young, Forbes included the sisters in their list of 30 Europeans under 30 advancing arts and culture.
2020 Sauvignon Blanc Merwah Blend
The darling of ancient indigenous grapes from Mount Lebanon, Merwah grapes typically produce rich, floral, and nutty wines and these grapes came of age in Wadi Annoubin–an alpine region where pine trees weave between sandstone and red rock. This constantly changing soil structure creates a complex crisp light wine, combined with a sprinkle of Sauvignon Blanc, which adds a dazzling zest. Grapes are harvested in late summer and pressed gently with an old traditional wooden press.
ABOUT THE WINEMAKER: Maria Frangieh is both a teacher and a student – a professor of digital marketing and business, a student of viticulture and wine history. Maria also has a personal passion for pushing the boundaries of traditional winemaking; including the outdated notion that winemaking is only for men. One of a small but growing number of women winemakers in Lebanon, Maria and her mentors, Abdullah Richi and Eddie Chami, are pioneering natural winemaking in the Fertile Crescent.
2020 Pinot Noir Rosé Pet-Nat
Featuring grapes from two unique high-altitude vineyards covered in snow during the winter: one plot facing the Mediterranean at 4600 feet above sea level next Wadi Annoubin–a UNESCO world heritage site, and the other at 5400 feet above sea level on the Bekaa side of Mount Lebanon, where Bacchus–the God of Wine–built his temple. After direct press, these grapes ferment for 3 weeks in a chilled stainless tank, then they are bottled where fermentation continues for a few days. The bubbles are all naturally occurring, a by-product of the in-bottle fermentation. The wine is left in contact with the lees for many months, before it is disgorged in winter.
ABOUT THE WINEMAKER: Abdullah Richi is a Syrian refugee making wine in exile in Lebanon, who is gaining increased exposure as a winemaker pioneering natural winemaking in the Fertile Crescent He has recently been highlighted in a number of publications including the Washington Post, SevenFiftyDaily, the Napa Valley Register and other wine-focused publications in Lebanon around the world.
2018 Reserve Pinotage
A uniquely South African varietal, widely recognized as the one of the country's signature wine grapes, pinotage grapes were first cultivated in South Africa in 1925 as a cross between Pinot noir and Hermitage grapes (now called Cinsault). Pinotage grapes typically produce deep red varietal wines with smoky, bramble and earthy flavors, sometimes with notes of bananas and tropical fruit. This particular 2018 Reserve Pinotage was matured in French oak for 14 months.
2021 Extra Brut Reserve Sparkling Rosé
Made with South African Cinsault grapes, this unique wine is made using the méthode ancestrale, the oldest known method of making sparkling wine–with Nondumiso and her team striking the perfect balance between innovation and tradition. Fittingly sold under the name Matriarch in South Africa, this sparkling rosé is a testament to Nondumiso and all the other women advancing change in South Africa's wine world.
ABOUT THE WINEMAKER: Nondumiso Pikashe runs Ses'Fikile Wines, an indigenous brand based outside of Cape Town. Ses'Fikile is an IsiXhosa word meaning "we have arrived" reflecting Nondumiso's constant awareness that Black women such as herself have been excluded from the world of wine in South Africa for far too long. Recognized as one of the women "rewriting history in South Africa's most famous wine region'' by the Wall Street Journal, Nondumiso is earning increasing attention in South Africa and around the world.
2019 Syrah
A 100% Syrah sourced from Zotovich Vineyard in the Sta. Rita Hills AVA, where the Pacific Ocean's marine layer and afternoon ocean breezes create the perfect environment for growing Syrah and other other cool climate wine grape varieties. This hand-crafted terroir-driven wine was fermented with wild natural yeast and 10% whole cluster inclusion. After pressing, the wine was aged in neutral French oak barrels for 10 months.
ABOUT THE WINEMAKERS: Mireia Taribó and Tara Gomez are a wife-wife duo who fell in love harvesting grapes and making natural wines that respect the earth. Both Mireia and Tara fell in love with wine and grapes at a young age–Mireia as a girl in Catalunya Spain (where "wine is considered a food") and Tara as a girl growing up as a member of the Santa Ynez Band of the Chumash Indians. Tara Gomez is the first recognized Native American winemaker in the United States and was recently honored by the James Beard Foundation as one of the organization's first cohort of Legacy Network advisors, and was named 2021 Winemaker of the Year by Vinepair. This winemaking dream team has also been profiled by a range of leading wine media outlets, including Food and Wine, Wine Enthusiast, Somm TV, and bon appetit, which called their wines among the "most coveted" in California.