English In Action Finds Silver Lining During Pandemic With Virtual Tutoring For Local Immigrants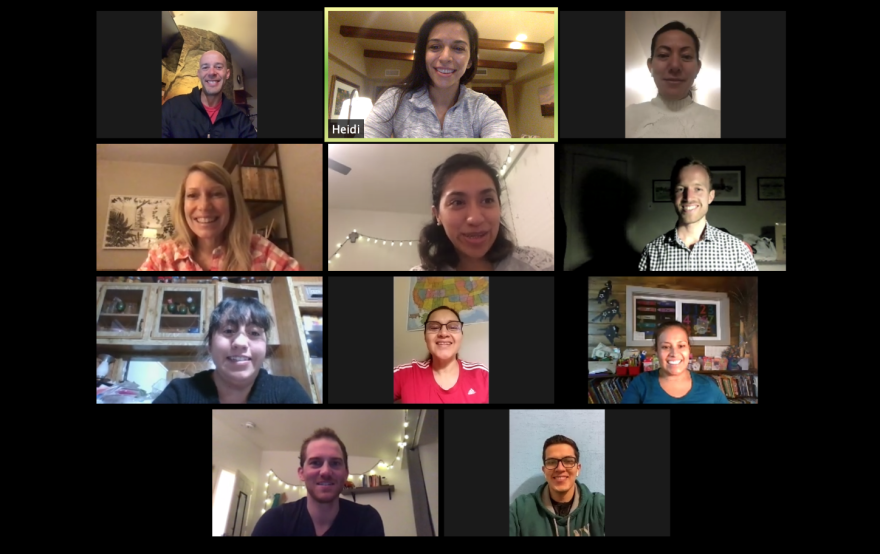 With no end in sight for the pandemic and cases surging in the Roaring Fork Valley, many nonprofits have had to shift online and rethink the way they operate. And for some, that's had an unexpected silver lining.
That's the case for the local English tutoring and cultural exchange organization, English In Action. They help match adult immigrants with trained volunteer tutors in the Roaring Fork Valley. The program is so popular there's about 170 people on the waitlist and some participants wait up to a year or more.
Pueden encontrar la versión en español aqui.
Before COVID-19 hit, those on the waiting list could gather at the nonprofit in El Jebel on Thursday evenings for community open hours from 6 to 7:30 p.m. The weekly program, known as "open hours," is free and anyone is welcome to show up. The main office is filled with stacks of vocabulary games, story books and white boards and participants are matched up with volunteer tutors.
Heidi Vargas, the match advisor and program coordinator for English In Action, says open hours is an important part of the community.
"It gives access to students to practice conversation, connect with someone and improve in an informal way," she said.
When the pandemic hit, the local organization had to put the weekly program on hold for a few weeks while they figured out the best way to offer it online. Vargas says they had to do a lot of outreach to let people know the program was moving to Zoom, and when they finally got it up and running in May, she was worried that no one would show up.
"A lot of our students connect through their phones because they don't have the access to a computer," she said.
Despite the technological challenges, Vargas says she was surprised to find that it was actually easier for some participants to attend.
One of these participants is Glenwood Springs' resident Patricia Juárez. She came to the valley with her husband 11 years ago from Chihuahua, Mexico, but she says she didn't start going to open hours until a few months ago when the class went virtual.
"I was very excited to get to practice and very nervous because I didn't know if the tutor was going to be able to understand me," Juárez said.
Before open hours moved online, she says she didn't have time to drive the 30 minutes to El Jebel and back after work because she has three young daughters at home.
"It's really hard to find childcare and it can be really expensive, so now I can be at home and keep an eye on my kids while learning English," she said.
Now, Juárez says she's able to attend the class nearly every Thursday evening and she can see the improvement in her English.
"It's really important for me to be able to communicate my ideas and my feelings, and also to speak with my daughters because they're already speaking English," she said.
Gloria Guerrero is another local who regularly attends open hours. Guerrero grew up in Michoacán, Mexico and now lives five minutes from English In Action's office in El Jebel with her family. She says she started going to the class after her husband tried it when they moved to the valley about eight years ago.
"It was a little bit scary because it was an unknown thing for me. I was here in this country and I could not communicate with people," she said.
Since that first class, Guerrero says improving her English skills have helped her become part of the community and do things like get her driver's license and communicate at her job.
"I can better understand people at work and that gives me more satisfaction," she said.
Guerrero works long hours as a housekeeper in Woody Creek and even though she misses going to open hours in person, she says it's sometimes easier to join a Zoom class when she's tired at the end of the day.
And she's determined to keep going to English In Action because she wants to apply for her U.S. citizenship.
"Before I wasn't prepared to get my citizenship, but now I see that's an opportunity that I have and so I have changed my vision for the future," Guerrero said.
According to Vargas, a lot of the participants that have joined open hours during the pandemic are in situations like Guerrero and Juárez. Many of them work long hours, have families to take care of at home and live farther "down valley" in places like Glenwood Springs, New Castle and Rifle.
Vargas says one thing she's learned during the pandemic is that virtual programming has the potential to expand our geographical sense of "community."
"It's giving a wider range of people the opportunity to improve their language and be able to navigate their everyday life and navigate themselves through the community," Vargas said.
She says reaching a greater diversity of people in the community is something English In Action will continue striving for even once the pandemic is over.